This article does not meet Youtaite Wiki's current standards and needs to be edited. Please read the Tutorial and Requirements pages and edit it.
❄kyune is a Youtaite with a mature and smooth voice which is distinguishable among other singers. Her range is quite large as she is capable of hitting high notes with ease and considers herself a soprano.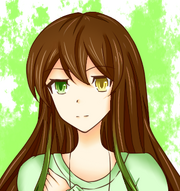 She is a relatively new Youtaite, having started out in late December 2013. She is active in a few choruses, and enjoys participating in chorus/solo battles.
| | |
| --- | --- |
| Alias | ❄kyune |
| Gender | Female |
| Current Location | United Kingdom |
| Born | Hong Kong |
| Status | Active |
| Years active | 2013-present |
| YT channel | ❄kyune |
| Other activities | Mixing, Voice Acting, Drawing |
Solo Covers
Edit
Collaborations and Duets
Edit
❄kyune comes from Hong Kong, but currently resides in the United Kingdom 
She speaks English, Cantonese, Mandarin Chinese and a bit of German
She has a low speaking voice, but is a soprano
Though she is outgoing and friendly when meeting new Youtaite and chatting to people in choruses, she is described as a kuudere in real life
Her favourite colour is green
Her best friend is gt'mochi♐ as they did a Youtaite Best Friends Voice Meme together
Ad blocker interference detected!
Wikia is a free-to-use site that makes money from advertising. We have a modified experience for viewers using ad blockers

Wikia is not accessible if you've made further modifications. Remove the custom ad blocker rule(s) and the page will load as expected.