This article does not meet Youtaite Wiki's current standards and needs to be edited. Please read the Tutorial and Requirements pages and edit it.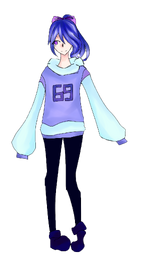 ひりko/ Hiriko is a new YouTube singer (Youtaite).
She officially started on Soundcloud in early 2015, but just recently started on Youtube in October 2015 and progressing at a rapid pace. At first, she showed almost no interest into becoming a Youtaite, but then was drawn in by chorus battles and videos of her favorite Youtaites.
Hiriko started off covering easier songs because she cannot properly pronounce the Japanese characters properly or quickly.
She is also an artist who has been drawing for a few years. She is able to draw both digital and traditional art, but struggle with the proportions of a male character. Her drawing of hands is quite..........
| Stage Name | ひりko |
| --- | --- |
| Also known as  | Hiriko/慧慧/HUI |
| Gender | Female |
| Origin | Chinese/Canadian |
| Real Name | Prefers to be unknown |
| Born | Oct. 20 |
| Status  | Active |
| Years Active | 2015-present |
| YT channel  | YT |
| Other positions | Artist |
| Art Samples | Art |
Affiliations and Collaboration Projects
Edit
Member of The Witch Project

Eyes, Nose, Lips/눈,코,입

with Abby (January 16, 2016)

Silhouette/ シルエットwith I Haz A Voice (voice actor) (February 8, 2016)
Ifuudoudou/威風堂々 with Kuraiem (February 14, 2016) 
aLIEz with Kazuki (March 7, 2016) 
Kotoba no Iranai Yakusoku/言葉のいらない約束 with I Haz A Voice and Kazuki (March 13, 2016) 
List of Covered Songs
Edit
Her real voice is genderless
Looks younger than actual age
Pocky and mochi is everything
Gamer -3-
Mic: Snowball
Younger sister of Uminami
External links
Edit
Ad blocker interference detected!
Wikia is a free-to-use site that makes money from advertising. We have a modified experience for viewers using ad blockers

Wikia is not accessible if you've made further modifications. Remove the custom ad blocker rule(s) and the page will load as expected.