This article does not meet Youtaite Wiki's current standards and needs to be edited. Please read the Tutorial and Requirements pages and edit it.
I am 1000% Thug
A youtaite vocalist with a Soprano Sass which is expressed greatly through her vocals. Annie started out on November 4, 2014, with the song [7iA|The Worst Carnival] and grew from there. Her most viewed cover is Courage. She usually covers Anime related songs but also covers VOCALOID songs. She also Translates lyrics from immediately translated English into singable lyrics. All of her covers are sung in English thus far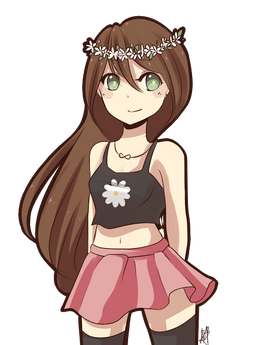 | Name | Annie the Unicorn |
| --- | --- |
| Gender: | Female |
| Origin: | United States |
| Birthday: | June 17 (Year Undisclosed) |
| Status: | Active |
| Years Active: | November 2014 - Present |
| YT Channel: | Annie The Unicorn |
| Other Activities: | Lyricist, Vocalist, Mixer |
List of Covered Songs
Edit
Collaborations
Edit
"Ikanaide" -Feat. Kazuki- (2015.03.14)
Annie has a strange obsession with Gareki from Kareval.
She Loves Free (Anime and Abridged series 50% off.)
Fan of BL and YAOI.
Calls herself "ThugAnnie" in covers she raps in.
Her favorite utaite is Mafumafu
External Links
Edit
Ad blocker interference detected!
Wikia is a free-to-use site that makes money from advertising. We have a modified experience for viewers using ad blockers

Wikia is not accessible if you've made further modifications. Remove the custom ad blocker rule(s) and the page will load as expected.