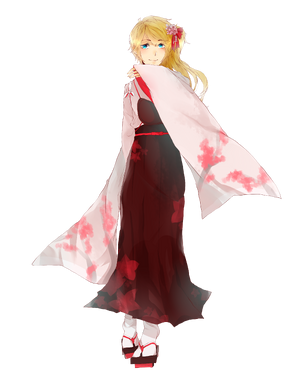 This article does not meet Youtaite Wiki's current standards and needs to be edited. Please read the Tutorial and Requirements pages and edit it.
hanami (はなみ) is a YouTube singer who joined the community in mid-2010, but has only called herself "active" since late-2013.
She has been described as having a soft, smooth, mid-ranged voice which has been noted as naturally childish & loli, but can take on a mature & lady tone as well . Despite her soft vocals, she is able to belt in her higher range as shown in cover of Terror by Neru . She sings mostly in Japanese, but is able to sing in English and Korean as well. She likes adding effects to her voice and often heavily tunes her covers.
Her favourite producer is Mikito-P whose songs she often covers, as well as HoneyWorks, Deco*27, Umetora, Niki, Neru and GigaP.
She often collaborates and organizes choruses and projects with fellow Youtaite.
| alias        | hanami (はなみ) |
| --- | --- |
| Also known as | hana, hanamin, hanachan, hanamimi, hanalin |
| Gender | Female |
| Born | May 30 |
| Status | Active |
| Years active | 2010 - present |
| YT channel | LinSuzune |
| NND sites | |
| Collab partner(s) | Karo, miseru, maru-chan, Hua, Icchan |
| Other activities | drawing, mixing |
Affiliations and Collaboration Projects
Edit
Member of TENx10N (ABCBA Chorus Battle)
Member of аиасня♚пisм (Serendipity Chorus Battle)
Member of Mahou☆Paella
Member of Cafe Dere (Hybrid Chorus Battle)
Member of Aèdes d'Aesop (Fables of Creation Chorus Battle)
Member of TeamTaipo (School of Chorus Battle)
Member of hahumami
List of Covered Songs
Edit
Her favourite utaite are Mafumafu, Amatsuki, un:c and Sana.
She's good friends with Icchan in real life (attended the same high school).
She is often called a Tsundere (although this statement is often denied).
She tends to show a maternal, motherly side to many of her friends which has earned her the nickname "Hanamama" (combining hanami and mama).
She is known amongst her friends as a sort of "Typo Queen" since she always seems to misspell many of her tweets and messages.
She is the "Leader" and "founder" of sorts of hahumami
Her Video Game husband is Link, Anime husband is Haruka Nanase and Disney husband is Tadashi Hamada.
She is "basically 15"
External Links
Edit