This article does not meet Youtaite Wiki's current standards and needs to be edited. Please read the Tutorial and Requirements pages and edit it.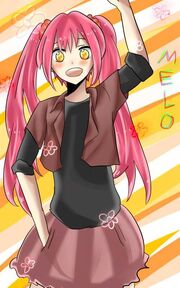 Melodie Chan==
Melo-chan (Melodie Chan) is a YouTube singer with a very nice vocal timbre and pitch. Her range is mezzo-soprano. She has two kinds of voice, her normal one and the cute one.
She is fairly new the the community, joining at April 2013.
Affiliations and Collaboration Projects

Edit
E? A, Sou (Ib ver.) (Melo-chan & Hyesoo) 
ACUTE (Melo-chan & Haru & Hyesoo)
Hyakunen no Koi (Melo-chan & Hyesoo)
Roles in choruses
Edit
| | |
| --- | --- |
| Japanese | Melo-chan |
| Gender | Female |
| Origin | Indonesia |
| Real Name | Prefers to be unknown |
| Birthday | July 1 |
| Status | Active |
| Years Active | 2013-Present |
| YT Channel | Melodie Chan |
| Other activities | Drawing |
✿ 유유유유유유 ✿

(Vocalist, Leader)                    

Sunshine Smile Chorus (Minami Kotori, Leader)                                   
PandaChorus (Vocalist)
Moe Muse Live (Yazawa Nico, Leader)
Clockwork Chorus (Mew)
VocaTwin Chorus (Hideyoshi)
Midnight Stars Chorus (MEIKO)
NWR Chorus (Vocalist)
​List of Covered Songs

Edit
Snow Halation (2013.04.07) 
Other unserious covers at her soundcloud
She loves to sing, although she thinks her voice is just normal.

She can't animate, and mostly asks her friends for help in posting covers at YT.

Best Friends with Hyesoo and Haru in real-life.

Very crazy when with friends, but pretty much shy with new people.

A very loyal otaku.
​External Links

Edit