This article does not meet Youtaite Wiki's current standards and needs to be edited. Please read the Tutorial and Requirements pages and edit it.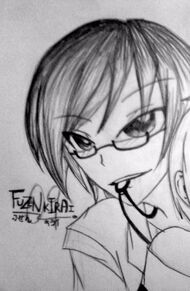 ZeroQ (formerly known as Fuzen Kirai/FN09KI) is a YouTube singer. She is known for her slight husky voice after posting her cover Ayano's Happinese Theory on both youtube and Niconico. However the video on NicoNico was later deleted. She started posting short one-attempt-cover on SoundCloud under her new stage name, ZeroQ.
Romanji/Japanese
ZeroQ/ゼロ九 (formerly

known as Fuzen Kirai)

'Also known' as

Fuzen,ZeroQ
Gender
Female
Origin
Asia
Real name
Prefers to be unknown
Born
Prefers to be unknown
Status
Inactive
Years active
2013-2016
YT channel

Fuzen Zerokyuu  (current)

NND Page
unavailable to access
Other activities

drawing, mixing,

photographing, writing stories
List of Covered Songs
Edit
She joined her school choir at the age of 13.
She loves astronomy.
Unlike most of the others Youtube singers or Utaites who use high quality microphones and programs for editing, she uses her iPad as her recording device and mixes plus editing them by using Audacity.
Because of school and lack of spare time, her activeness has drop, but she still tries her best to release songs.
She loves to post her live-singing cover on SoundCloud, making her active on that site.